We want to migrate our production and staging/testing systems to Kubernetes (K8s) and have developers develop with private or individual Kubernetes clusters. Check out this blog post for an example of local development with Kubernetes. Depending on the development process, existing projects may need to be prepared before migration. We'll look at three example projects that differ in development procedure and hosting: one developed locally using Vagrant, two using Docker images, and hosted with either Docker Compose or Kubernetes. The goal is for all three projects to appear both in development and operating under the stage 'Container-Orchestrated'.
The following graphic illustrates the temporal development of development and hosting systems, we can clearly assign our example projects but will ignore the first stage, "Bare Metal".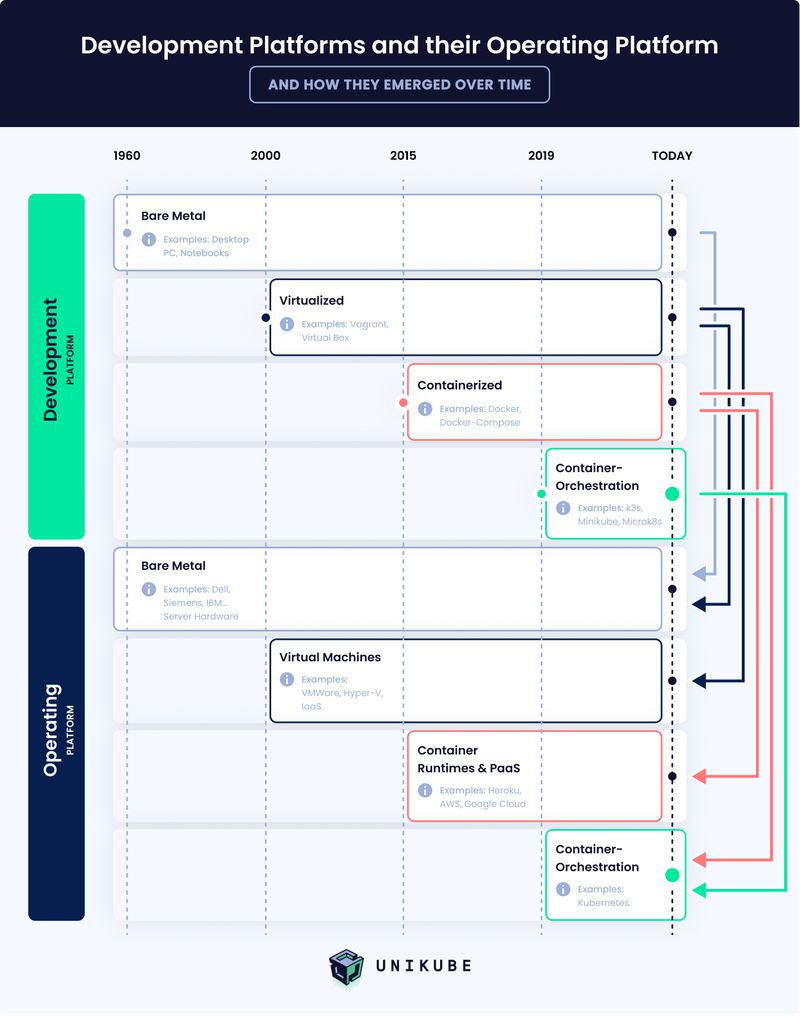 Example 1: Local development using Vagrant
Vagrant was developed to simulate the production environment in a virtual machine. Now, with Cloud Native, applications and their environment variables are put into containers. To migrate to Docker, a Dockerfile must be created. It's important to consider which parts of the application can be subdivided into individual services. This prevents the application from becoming a monolith. For example systems like a databank or a cache should not end up in the Dockerfile but should instead be configured as individual services.
Helm charts should be created for all required services, which generate K8s resources. Finally, the development process must transition to Kubernetes. Developers can use local clusters simulated by k3d, microk8s or minikube, or remote clusters only used by one developer.
Example 2: Local development and hosting with Docker Compose
Our second project uses Docker Compose for development and hosting of the production system. We have already thought thoroughly about the different services the application will need and have Dockerfiles and a Docker-Compose.yaml to define the services needed. The main part of the migration consists of the creation of the Kubernetes configuration files. To create Kubernetes configs, we use Helm charts for easier maintenance in larger projects. Alternatively, we can use the kompose command to convert the Docker-Compose.yaml into manifest files. Finally, we transition the local development process to Kubernetes.
Example 3: Local development via Docker Compose, hosting via Kubernetes
With this project, we have already subdivided our services and have one or several Dockerfiles. For local development, Docker Compose is used while hosting takes place via Kubernetes. The only migration step is transitioning the local development process to Kubernetes. The production environment for the local development has to be simulated in the Docker-Compose.yaml. This does require a certain amount of extra effort and creates the problem that the local environment doesn't quite match the production environment. This means that unexpected problems or side effects can occur during deployment."
Challenges during migration
For the migration, a few challenges need to be overcome. These include the transition to local development processes and any additional tools that developers must master. An operations specialist with Kubernetes knowledge is needed to develop Helm charts.
Obstacles from a developers point of view:
Learning how to use kubectl in order to enable the direct interaction with the cluster.
Live code-reloading: when the code is changed, it should be possible to test the alterations as quickly as possible – without having to first build a new Docker image and deploy it in the local cluster. This is possible via Gefyra, for example
For most developers, the debugger is undoubtedly an important part of an optimal development process. With a local Kubernetes cluster, this debugger has to be explicitly configured again. In a Python environment, for example, you do this using python remote debug.
Developers may have to learn at least the basics of three further tools in order to utilise the whole scope of features which the Docker Compose setup has made available. We can help you figuring out the right toolchain for your business, help you with the implementation of tools and train your developers on the usage of your new toolset.